Amulet Manufacturing Company warrants to the original purchaser all non-hydraulic components manufactured by Amulet Manufacturing Company against defaults in materials, faulty design, and workmanship for a period of two (2) years from the date of purchase. Hydraulic components (cylinders, valves, fittings, hoses, and couplers) are warranted for a period of one (1) year and are subject to the Warranty of their respective manufacturer.
Amulet Manufacturing Company will repair and/or replace defective product free of charge within the limits of this policy.
Distributor/dealer must notify Amulet immediately of the defect by phone, fax, or email. All claims must be made in writing, and when possible, include photographs and a description of the failure. Additional investigative information relating to the claim may be requested by Amulet.
To see more terms and conditions click here!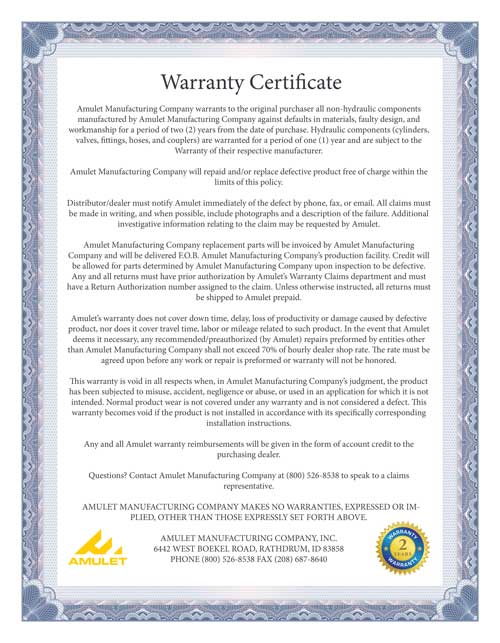 OUR MISSION

To be the industry's foremost leader in innovation, product quality, customer service, and reputation.