BENEFITS

Full 90 degree range of tilt
Drilled for standard bolt-on edge
Offered for backhoe loaders and excavators
Heavy duty cylinders
Sizes from 6,000 – 80,000 lb. machines
Available as standard or high capacity
Efficient and versatile
Available in widths from 36" up to 84" (depending on excavator)
2 Year warranty
100% USA made
BENEFITS

Full 90 degree range of tilt
Drilled for standard bolt-on edge
Offered for backhoe loaders and excavators
Heavy duty cylinders
Sizes from 6,000 – 80,000 lb. machines
Available as standard or high capacity
Efficient and versatile
Available in widths from 36" up to 84" (depending on excavator)
2 Year warranty
100% USA made
DESCRIPTION

The Amulet Tilt Bucket is fast becoming standard equipment for many rental yards and contractors who have been waiting for a full feature hydraulic tilt bucket. Amulet's unique design provides the machine operator the ultimate soil shaping and excavating attachment. Amulet's tilt bucket tilts 45 degrees each way and has heavy duty, double-acting hydraulic cylinders. Bolt-on edges are available for all Amulet Tilt Bucket models.
Pin set sold separately.
SPECIFICATIONS

Perfect for the following Universal Skid Steer Loader Attachments:
Skid Steer Bucket, 4-in-1 Bucket, Stump Bucket, Rock Bucket, Manure Bucket, Skeleton Bucket, Snow Bucket, Mulch Bucket, Grapple, Hydraulic Breaker, Hydraulic Hammer, Cement Mixer, Concrete Claw, Concrete Crusher, Rock Crusher, Demolition Shear, 3-Point Adaptors, Auger, Bale Handler, Bale Spear, Boom, Fixed Boom, Telescopic Boom, Breaker, Hammer, Brush, Rake, Landscape Rake, Snow Pusher, Snow Plow, V-Plow, Snow Bucket, Snow Blower, Skid Steer Pallet Forks, Pallet Forks for Skid Steer, Pallet forks for tractor, tractor forks, Tree Shear, Trencher… Basically anything you can put on a skid-steer, walk-behind or micro-loader!
VIDEO


WARNING: This product can expose you to chemicals including carbon black, which is known to the State of California to cause cancer. For more information, go to www.P65Warnings.ca.gov.
Featured Products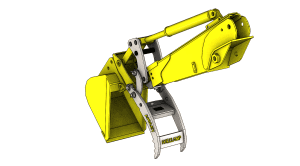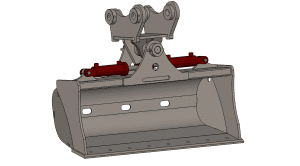 Tell us about the equipment you are currently using and the Amulet products you are interested in. All products have the Amulet two year warranty and are only made in the USA (GUARANTEED TOUGH).